Twin Pines Christian Church (Disciples of Christ)
1139 Tanbark Road Lexington, KY 40515-1819 859-271-6711

"building a community of Disciples...becoming God's hands...
touching lives through Christ"
Yes, we are open for worship on Sunday mornings. Our service starts at 10:45, doors open at 10:15. We follow healthy at work/church guidelines so that those who are comfortable in a public setting may worship in community with others, safely.

Masks are required (we'll give you one if you don't have one), and we will check your temperature as you enter the building. We ask that you go to the sanctuary rather than linger in the fellowship area prior to or after worship, unless you are dropping off a child for nursery care or children's church.

Household members may sit together in the sanctuary, but there must be 6 feet of distance between households.

During this pandemic, we are using pre-packaged communion elements and printed worship guides, and we are not observing a "passing of the peace" ritual. If you choose to light a candle during prayer time, the candle lighter will be wiped down after each person uses it.

We stream our worship services live each Sunday morning at 10:45 on Facebook, and later in the week the video will be available on YouTube and our website.

Please stay safe, and join us for worship in whichever format is best for you and your family.
News and Upcoming Events
Welcome Rev. Dann Masden!
We are planning for a World Communion Sunday Service on

October 4, 2020. Click the button below for details.
​
---
September 20, 2020
"What We Believe"


September 13, 2020
"Walking for Peace and Justice"
​
---
---
---
---
---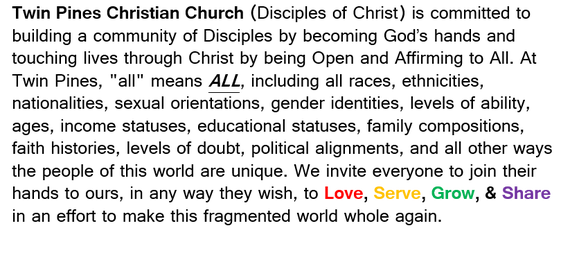 ---
---